Summer Offer: Trade-in your Nanodrop!

Discover the full range of Nanodrop solutions
Rapid and accurate microvolume analysis of DNA, RNA and protein samples: 
Easy to use: pipette, measure and get your result 
1-2

µL microvolume sample

Acclaro software identifies and quantifies contaminants like phenol and guanadine

Highest dynamic range and accuracy with 5 path lengths 
Choose the instrument that matches your needs:
The NDOne with a wide spectrum wavelenght measurement (190-850).
Save time and measure up to 8 samples at once with our NanoDrop Eight
Our affordable, compact and portable ND that fits on any lab bench: NDLite Plus
TRADE-IN SUMMER OFFER
Our TRADE-IN Summer Offer is applicable to any instrument, including the NanoDrop! Do not hesitate to contact us for more information about the offer!

Update your ND Software to the latest version 
Keep your UV-VIS spectrophotometers up to date with new features and improvements in the FREE Software, but most important:
Identify and quantify contaminants thanks to the unique software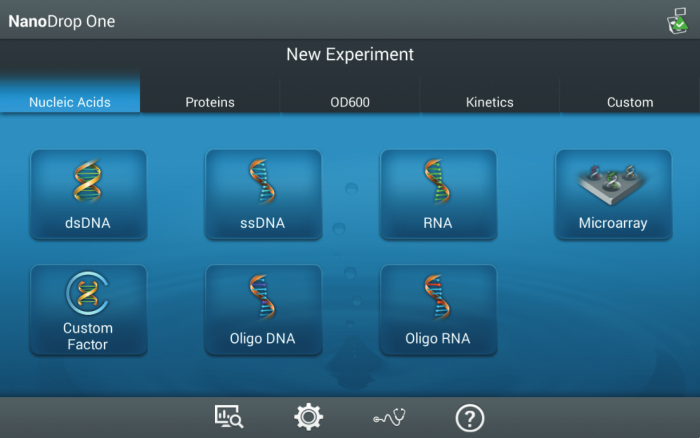 ND One software version 2.10:

 

The stable version has improvements on connection and data export.
Discover new applications for the measurement of unpurified proteins in cell lysate with the ND8.
and many more!
Contact us for more information about the software!
Back to overview