RNA Experts: Discover how to be cost-efficient with the best results
Cost-efficient sequencing for gene expression 
Our expression profiling kit (QuantSeq 3' mRNA Seq) sequences less reads than standard mRNA and whole-transcriptome approaches:
Gene expression sequencing the 3' end of RNA transcripts.

Save time: Only 4.5 h workflow (<2 h hands-on time)

Applicable for all RNA qualities, including degraded RNA.

Compatible with automated liquid handlers.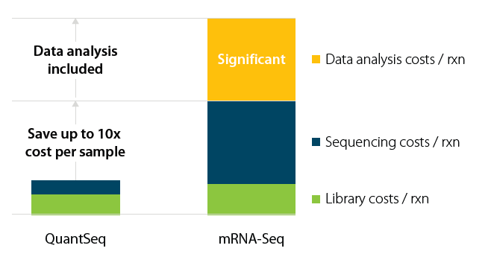 Save up to 10x cost per sample when generating sequencing-ready NGS libraries
Are you working with FFPE samples, blood, plasma, urine or serum? Our kits are successful with difficult samples!
Do not hesitate to visitcontact us for more information!
Sequence what matters the most 
Preserve your target RNA: no enzymatic reaction
Save time: easy protocol of 1,5 hours (only 30 minutes hands-on time)
Remove abundant rRNA from 95% to 1-3%
Available for

 

human, mouse, rat,

 

bacteria

 

and

 

yeast

 

samples
Compatible with degraded RNA and low input samples
RiboCop rRNA Depletion kit for Bacteria efficiently removes rRNA across a wide range of input amounts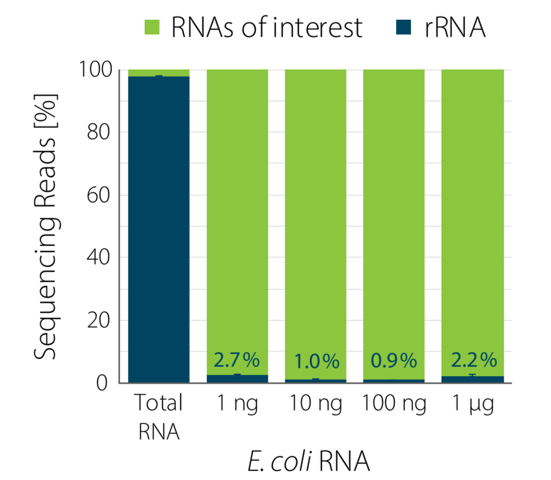 We help you at any step of the workflow!
Are you in need of RNA Sequencing, but not in possession of the needed instrumentation? We offer services for RNA Sequencing.
Personal care from sample extraction to data analysis
We match every step with your needs.
Get high-quality and rapid results

Data safety is a top priority

Back to overview