In Plant & Seed Studies, Guarantee the best DNA/RNA Extraction
Maintain gene expression profile of all your samples
Non-toxic storage solutions 
It stabilizes fragile RNA 
For fresh tissue and cell culture samples 
Compatible with most extraction methods: phenol and column-based 
Discover more about our new solution
Are you doing extraction for NGS purposes? Achieve high-quality and purity RNA with our SPLIT RNA extraction kit
High yields and purity: Get your samples ready for downstream applications
We offer a broad range of DNA and RNA extraction kits for different kind of fresh, frozen or dried plant material samples:
*28 min for RNA and <1h for DNA samples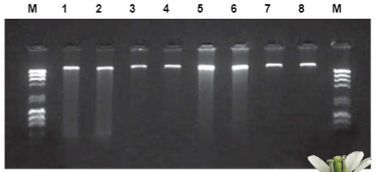 Purification of plant genomic DNA from barley (1-2), lettuce (3-4), basilica (5-6) and arabidopsis (7-8). M= marker
Our kits are successful in a broad range of research applications:
Plant pathogens research (e.g.

 

X. fastidiosa, Candidatus phytoplasma and more)
RNA-seq for Post-translational modifications
GMO
Animal pathogens
Methylation in glioblastoma
For less risk of contamination, less human error and higher sample volume you can use automated systems for your leaf and seed samples.
Contact us for more information about automation
Back to overview