Online BCF Career Event
17th of February
Join the online event between 9.30-16.30
BCF Career Event is the largest career event for the Life Sciences. It is the meeting place for everyone who is or wants to be active in Bio/Life Sciences, Chemistry, Food or Pharma. BCF Career Event offers you the opportunity to get into direct contact with a broad range of employers in the sector, but also with other organisations that can help you further in your career. Additonally, you can meet Isogen Life Science at their online booth or listen to the company presentation at 11:50.
The event exist of several activities. At the BCF career event you can watch company presentations and perform workshops. The companies will also have online booths, which you can visit. Here, you can speak to employees, ask your questions, view vacancies and get a better insight in the different companies.
Additionally, recruiters are present on the event, which provide tips and tricks to help you with your CV. 
We are excited to meet you, register now: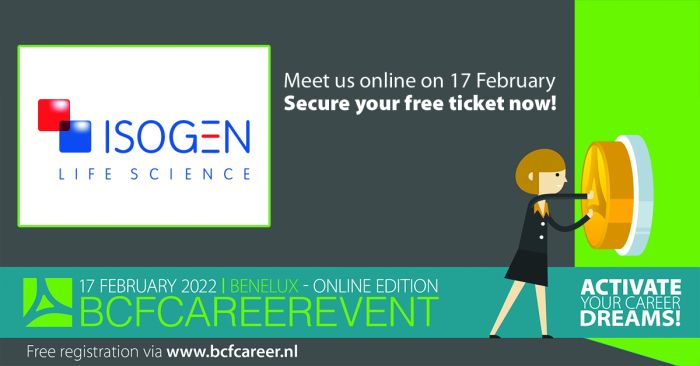 Back to overview